On Christmas day, compliments of social media's global coverage, millions of people saw a speechless Cristiano Ronaldo receiving a very uncommon and exclusive gift: an astonishing Rolls Royce.
His wife Georgina surprised him with an ultra-luxurious car, which came also wrapped in a big red ribbon. She filmed all the scene for the sake of 500 million fans the football star has on social media. It does not happen to many people, not even to US presidents, to get the most expensive car in the world as a Christmas present: a customized Rolls model shows an average price tag of 500.000 US dollars. Georgina, as every devoted wife does, knows her husband's passions: Ronaldo is an avid luxury car collector. His personal garage hosts a Bugatti Veyron, a Ferrari 599 GTO, and a Lamborghini Aventador. Rolls Royce was an apt addition. The most expensive car in the world was just a starter as the new year brought the football star a much bigger deal: a billion dollar value contract with hitherto unknown Al Nassr football club in Saudi Arabia, not really the most prominent soccer squad in the world.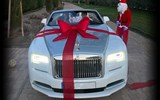 AN OFFER YOU CAN'T REFUSE
It was a dramatic change, in many ways, from cold and grey Manchester to hot and over-sunny Riyadh. CR7, as he is globally known, took off as a footballer at United years before but his recent return back home proved to be ill-fated. So, in January 2023, he escaped again from the UK: he did it throwing bad accusations at his team manager in an explosive interview with British TV celebrity Piers Morgan. The broadcast sealed his divorce from the club he started his phenomenal career with. Nobody, though, would have imagined he would land in Saudi. Especially because, in that same bombshell tv interview, only a few weeks earlier, he ruled out ending his career in some second-tier club outside Europe. But Pecunia non Olet, as ancient Romans said: money does not smell. Especially, when it's a lot. And especially so, when you have a high-life living and a high-maintenance family. Saudi's club offered Ronaldo a sheikh-style deal: 200 million Euro per year for the next 5 years. The soccer superstar broke another record in his already milestone-filled lifetime: he is the most paid football player of all time, reaching 1 billion Euro contract. Everything comes at a cost, though: he had to swallow his pride and move to a peripheral club, with virtually no chance to play at the international level anymore.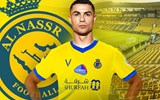 On his left arm, Ronaldo shows a Virgin Mary tattoo. This is linked to his origins and childhood. Born in February 1985, on the secluded Portuguese island of Madeira, in the middle of the Atlantic ocean, he is the fourth and youngest child of Maria Dolores dos Santos Viveiros da Aveiro, a cook. The story goes that the woman did not want this child. She allegedly tried to abort him due to poverty: his father had alcohol problems, and she had too many children already, but her doctor refused to perform the procedure. The unwanted Cristiano grew up in an impoverished Catholic home, sharing a room with all his siblings. When his mother sensed that the boy had a talent for soccer, she made a spectacular U-turn, becoming his first and major supporter. Still today, Mrs Da Aveiro oversees every decision of her last and unwelcome son, who turned out to be an international celebrity.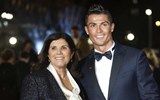 For 3 years, from 1992 until 1995, a seven years old Ronaldo played for the local squad Andorinha, where his father was the kit man, and later the boy spent two years with the other local side, Nacional. In 1997, only 12 years old, he left his native island for the first time. He went on a trip to Lisbon, the capital city of Portugal, for a three-day trial with Sporting Lisboa: the club immediately signed him for £1.500. It was his first income: he subsequently went to live inside Sporting's youth academy. At the age of 14, Ronaldo believed he had the ability to play semi-professionally and agreed with his mother to cease his education in order for him to focus entirely on football. The decision proved right: 3 years later, in 2002, international clubs started putting their eyes on him. Manchester United's manager, football legend Alex Ferguson, was determined to acquire Ronaldo, after Sporting defeated the English club at the inauguration of the Estádio José Alvalade in August 2003. Having been impressed by Ronaldo, the United players urged Ferguson to sign this young Portuguese player. After the game, Ferguson agreed to pay Sporting £12 million. At the time, the transfer fee made Cristiano the most expensive teenager in English football history. But, again, it proved to be a successful move. Under the spell of Sir Ferguson, the club's glory and mastermind, Ronaldo skyrocketed. Although he requested the number 28 for his jersey, the same number he had at Sporting, he received the number 7 shirt, which had previously been worn by United legends such as George Best, Eric Cantona and David Beckham. The CR7 nickname, and another football star, were born. He played six seasons with the United, becoming an idol for Old Trafford's fans: he won multiple Premier League and Champions League titles. Any other football player would have thought of this as the epitome of a spectacular career. For Ronaldo, this was just the beginning. His talent did not go unnoticed by Florentino Perez, the Spanish construction mogul and owner of Real Madrid.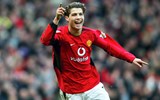 In 2009, the Portuguese moved to Madrid. In the capital city of Spain CR7 reached global stardom, becoming multi-millionaire in the meantime. He played with Real for 9 seasons, winning 4 UEFA Champions League, 2 La Liga, 2 Copa del Rey and 4 FIFA Club World Cups. Such a huge palmarès by far makes him one of the greatest soccer players of all time. He has won numerous awards throughout his career, including five Ballon d'Or awards, the most prestigious acknowledgement for a football player.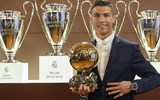 Success and fame brought controversy as well: in 2009, Ronaldo was accused of rape by Kathryn Mayorga, a woman he had met in a Las Vegas hotel room. Ronaldo denied the allegations and in 2010, the case was settled out of court with Mayorga receiving a 375,000 US Dollars payment. The case was reopened in 2018, but the charges were ultimately dropped due to lack of evidence. Sexual allegations were nothing short of a side annoyance, and a spare money cost, compared to the big tax scandal that would hit the international champion. Nine years later the "VegasGate", Ronaldo was accused of tax fraud by Spanish authorities. He allegedly used a shell company to hide income earned from his rich image rights. Ronaldo paid 18.8 million Euro fine and received a two-year prison sentence, which was suspended. Maybe also because of this, CR7 started considering moving elsewhere: he won in Premier League, he won in La Liga. There were only 2 European major leagues remaining to choose from: Italy's Serie A and Germany's Bundesliga. A more welcoming tax rate was probably the trigger for the Portuguese international in choosing La Dolce Vita.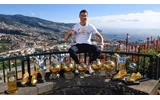 Saturday 26 May 2018 was a pleasant and warm evening in Kyiv: Olimpiyskiy Stadium was packed even if soccer season was already done. Ukraine's capital was hosting the Champions League Final: Ronaldo's Real Madrid against Sala's Liverpool. The Spanish side won and CR7 was pictured with the Cup while gesturing the number 5 with his hand. Celebrations, though, were a little bit spoiled. Everybody got the feeling CR7 was also giving his farewell to the club, overshadowing Real Madrid's success. Two months later, feelings became reality: Italy's Juventus announced Ronaldo's signing. The club's chairman Andrea Agnelli, heir to the richest and most powerful family in Italy, flew personally, with his private jet, to Costa Navarino, in Greece, to sign the contract.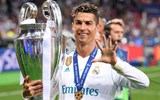 Agnelli made it known that the Italian club hired its most expensive player ever in order for Juventus, the biggest Italian football team, to win Champions League, a trophy that had been missing for 21 years at the time. It was an expensive gamble: Juventus paid 100 million Euro to release CR7 from Real, plus a 25 million Euro annual compensation for the player.
The champion's dream soon turned into a nightmare. CR7 played in Italy for 3 seasons, where he won 2 Serie A titles and 1 Coppa Italia, but clashed with coach Max Allegri and "fired" two other managers. Most of all, notwithstanding CR7's spell, Juventus failed to win the Champions League. For the first time in years, Ronaldo did not reach at least the semifinals in the international competition he won 5 times. It was a huge blow to his career and fame. In a turbulent and quick move, CR7 ripped off his Juventus contract and returned to Manchester United in the summer of 2021. In the same year, he became the first player to score 100 goals in UEFA Champions League history.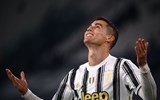 POSTMAN ALWAYS KNOCKS TWICE
His return to Old Trafford, though, was not a happy one. The "Juventus Situation", from which he left feeling that the club was inadequate for him, replicated at the English club. Instead of recreating the magic of his debut, 20 years before, Ronaldo clashed again with the coach and the club, struggling to make a difference. After only 18 months in Manchester, he ripped off his contract again and started a new, ultra-rich, life in Riyadh. Some estimates have placed Ronaldo's net worth at over 500 million Dollars, but that was before the Arabian contract. The move to Saudi made him the highest-paid athlete in the world. In addition to his income from soccer, Ronaldo also earns a significant amount of money from sponsorship deals with major global brands such as Nike, Herbalife, and EA Sports. He also owns several businesses, including a hotel in Portugal and a fashion line, CR7. Money does not bring happiness, but for sure it helps.